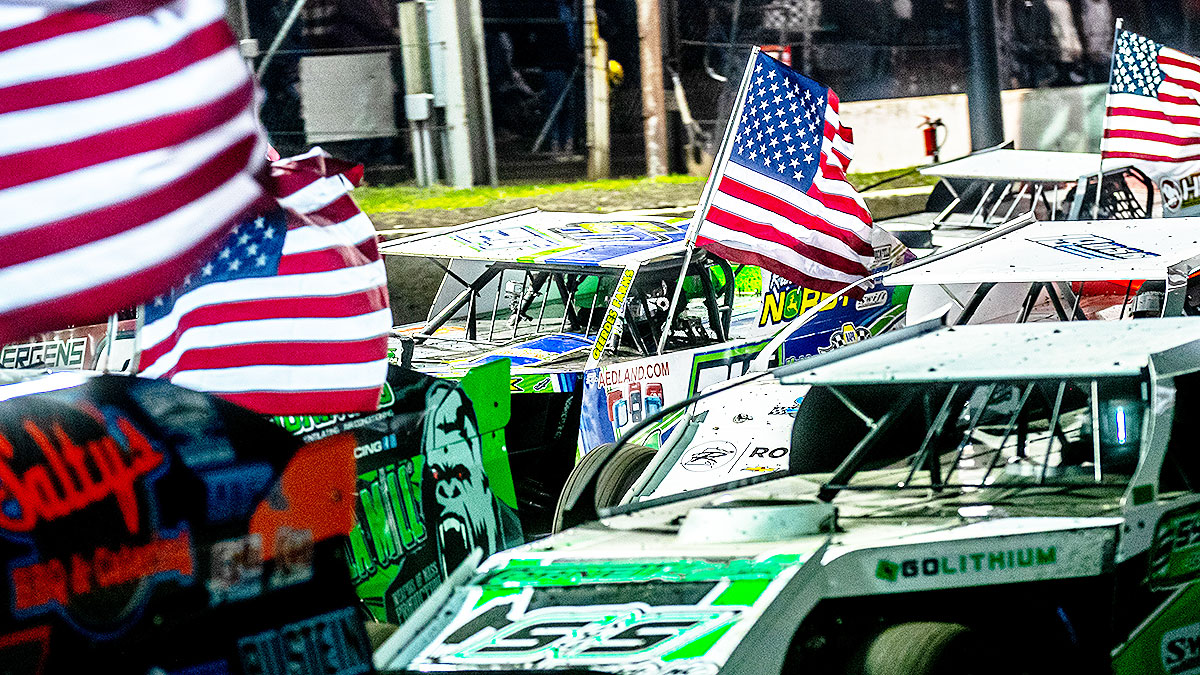 Mammoth Memorial Day Weekend Looms for USMTS Motorheads
MASON CITY, Iowa (May 23)

—

The Best of the Best in dirt modified racing are headed north for another historic 100 hours of racing over Memorial Day Weekend featuring the Summit USMTS National Championship presented by RacinDirt.

Four straight nights of unreal racing kicks off Thursday, May 26, with the 8th Annual USMTS Double Down Showdown at the Mason City Motor Speedway in Mason City, Iowa, and then the series makes a long-awaited return to the Chateau Speedway in Lansing, Minn., on Friday, May 27.

The Deer Creek Speedway in Spring Valley, Minn., hosts the 19th Annual USMTS Southern MN Spring Challenge on Saturday, May 28, before travelling to the reanimated Winneshiek Raceway in Decorah, Iowa, on Sunday, May 29, for the 14th Annual USMTS Nordic Nationals.

THURSDAY, MAY 26
MASON CITY MOTOR SPEEDWAY – MASON CITY, IA
8TH ANNUAL DOUBLE DOWN SHOWDOWN
With $5,000 to win up for grabs, it's the first of four straight nights in the region and a huge field featuring the Best of the Best are expected, including points leader Dustin Sorensen, Tanner Mullens, Zack VanderBeek, Rodney Sanders, Lucas Schott, Jason Hughes, Terry Phillips, Jake Timm, Dereck Ramirez, Jacob Bleess and many more.

Times:
Pits Open 3 p.m.
Grandstands Open 4 p.m.
Pill Draw Closes 4:45 p.m.
Pit Meeting 5:30 p.m.
Hot Laps 6 p.m.
Qualifying 6:30 p.m.
Racing to follow

Tickets:
Adults (17+) – $25
Seniors (65+) – $20
Military – $20
Juniors (12-16) –$20
Kids (11 & Under) – FREE

Pit Passes:
Adults – $40
Youth – $30

Support Classes:
USRA Stock Cars
USRA B-Mods
USRA Hobby Stocks
Outlaw Mini-Mods

Past Winners:
June 24, 2009 – Ryan Ruter
June 23, 2010 – Mike Steensma
May 23, 2012 – Kelly Shryock
June 11, 2013 – Jason Hughes
(previously called I–35 Speedway)
May 26, 2016 – Rodney Sanders
Aug. 14, 2016 – Cade Dillard
Aug. 13, 2017 – Ryan Gustin (postponed from June 11)
Aug. 13, 2017 – Ryan Gustin
Aug. 12, 2018 – Terry Phillips
June 18, 2020 – Dereck Ramirez
July 28, 2020 – Tanner Mullens
July 29, 2020 – Lucas Schott
July 30, 2020 – Dereck Ramirez
July 18, 2021 – Tanner Mullens

Directions: I-35 to exit 194, then 5.1 miles east on SR 122, then left on 4th St. SW (at the North Iowa Events Center).

Track Configuration: 1/3-mile semi-banked dirt oval

Phone: (515) 832-6000
MasonCityMotorSpeedway.com
Facebook • Instagram • Twitter

FRIDAY, MAY 27
CHATEAU SPEEDWAY – LANSING, MN
13TH ANNUAL EVENT
It's been nearly six years since the roar of the USMTS Modifieds filled the air at the Chateau Speedway just outside of Austin, Minn. Zack VanderBeek led 82 of the last 84 laps here but only found the checkered flag once during the 2016 season. Lucas Schott inherited the lead when VanderBeek shredded a tire with two laps to go on July 29 but came back labor Day weekend to lead all 42 laps.

It should be noted that the main events that year had two additional laps added in honor of Grant Junghans who passed away in March that year at just 27 years of age. One of the most popular racers in USMTS history, he drove car No. 2 and the USMTS Rookie of the Year Award has since been named in his honor.

Times:
Pits Open 4:30 p.m.
Gates Open 5:30 p.m.
Hot Laps 6:45 p.m.
Qualifying 7 p.m.
Racing to follow

Tickets:
Adults – $25
Youth (6-12) – $5$
Kids 5 & Under – FREE

Pit Passes:
Adults – $40
Youth (6-12) – $20
Kids 5 & Under – FREE

Support Classes:
USRA Stock Cars
USRA B-Mods
Wissota Midwest Mods
Hornets

Past Winners:
June 28, 2001 – Mike Chasteen
Aug. 22, 2001 – Kelly Shryock
Sept. 1, 2006 – Jon Tesch
Aug. 31, 2007 – Tommy Myer
May 23, 2008 – Jason Krohn
Aug. 29, 2008 – Tim Donlinger
May 22, 2009 – Jason Hughes
May 28, 2010 – Doug Hillson
Sept. 3, 2010 – Jon Tesch
May 30, 2011 – Ryan Gustin
July 14, 2011 – Tommy Myer
July 6, 2012 – Brandon Davis
Aug. 31, 2012 – Mike Sorensen
June 6, 2013 – Brandon Davis
Aug. 30, 2013 – Joey Jensen
May 23, 2014 – Brandon Davis
May 22, 2015 – Rodney Sanders
Sept. 4, 2015 – Jason Hughes
July 29, 2016 – Lucas Schott
Sept. 2, 2016 – Zack VanderBeek
(previously called Chateau Raceway)

Driving Directions: 5.0 miles north of Austin on US 218 to the Lansing exit, then 1.3 miles east on CR 2, then 0.4 mile south on CR 25, then 0.3 mile east.

Track Configuration: 1/3 mile semi-banked gumbo clay oval.

Phone: (507) 440-8237
ChateauSpeedway.com • Facebook •
Twitter
SATURDAY, MAY 28
DEER CREEK SPEEDWAY – SPRING VALLEY, MINN.
19TH ANNUAL SOUTHERN MN SPRING CHALLENGE
More than any other racetrack, the high-banked 3/8-mile clay oval located in the rolling hills of Southern Minnesota will be hosting Summit USMTS National Championship presented by RacinDirt for the 118th time this Memorial Day Weekend.

The list of former USMTS winners at 'The Creek' could serve as dirt modified racing's half of fame class. Nine-time USMTS national champ Kelly Shryock won the first-ever contest here in 2002—his first of 10 victories here. Rodney Sanders has garnered 11 checkered flags here but both take a back seat to Jason Hughes who has a series-best 14 victories here.

Tickets:
Adults – $30
Seniors (65+) – $30
Students (13-17) – $30
Kids (12 & Under) – $10

Purchase Online
(ends May 24 at 1 p.m.)

Pit Passes:
Adults – $40
Students (6-15) – $25
Kids (5 & Under) – FREE

Pit Gates Open 3 p.m.
Gates Open 4 p.m.
Pit Meeting 5:10 p.m.
Hot Laps 5:30 p.m.
Racing 6 p.m.

Support Classes:
USRA Stock Cars
USRA B-Mods

May 25, 2002 - Kelly Shryock
June 19, 2002 - Steve Wetzstein
Aug. 31, 2002 - Kelly Shryock
Sept. 19, 2002 - Jason Hughes
Sept. 20, 2002 - Kelly Shryock
Sept. 21, 2002 - Mark Noble
May 24, 2003 - Darin Walker
June 18, 2003 - Kelly Shryock
Aug. 30, 2003 - Kelly Shryock
Sept. 19, 2003 - Tony Fraise
Sept. 20, 2003 - Corey Dripps (rain-delayed from Sept. 18)
Sept. 20, 2003 - Dan Daniels
May 29, 2004 - Dan Chapman
June 15, 2004 - Corey Dripps
Sept. 4, 2004 - Les Duellman
Sept. 23, 2004 - Mike Hejna
Sept. 24, 2004 - Ryan Ruter
Sept. 25, 2005 - Kelly Shryock
May 28, 2005 - feature cancelled due to crash
Sept. 3, 2005 - Mike Spaulding
Sept. 22, 2005 - Brad McEwan
Sept. 23, 2005 - Kelly Shryock
Oct. 2, 2005 - Jason Hughes
May 27, 2006 - Ryan Ruter
Sept. 2, 2006 - Kelly Shryock
Sept. 22, 2006 - Mark Burgtorf
Sept. 23, 2006 - Chad Kinder
Sept. 24, 2006 - Steve Arpin (rain-delayed from Sept. 21)
May 26, 2007 - Kelly Shryock
Sept. 1, 2007 - Tim Donlinger
Sept. 6, 2007 - Jason Krohn
Sept. 7, 2007 - Jon Tesch
Sept. 8, 2007 - Dean Mahlstedt
May 24, 2008 - Jason Hughes
Aug. 30, 2008 - Tim Donlinger
Sept. 18, 2008 - Jason Hughes
Sept. 19, 2008 - Zack VanderBeek
Sept. 20, 2008 - Tim Donlinger
May 23, 2009 - Tim Donlinger
Sept. 5, 2009 - Tommy Myer
Sept. 24, 2009 – Jason Cummins
Sept. 25, 2009 – Zack VanderBeek
Sept. 26, 2009 – Jason Hughes
May 29, 2010 - Tim Donlinger
Sept. 4, 2010 – Mike Sorensen
Sept. 24, 2010 – Terry Phillips
Sept. 25, 2010 – Jason Hughes
Sept. 26, 2010 – Terry Phillips (rain-delayed from Sept. 23)
May 28, 2011 – Ryan Gustin
July 13, 2011 – Zack VanderBeek
July 27, 2011 – Jason Cummins
July 28, 2011 – Randy Timms
July 29, 2011 – Ryan Gustin
July 30, 2011 – Brad Waits
Sept. 22, 2011 – Brad Waits
Sept. 23, 2011 – Jason Cummins
Sept. 24, 2011 – Terry Phillips
May 26, 2012 – Brandon Davis
June 27, 2012 – Joey Jensen
July 7, 2012 – Brandon Davis
July 25, 2012 – Joey Jensen
July 26, 2012 – Stormy Scott
July 27, 2012 – Jordan Grabouski
July 28, 2012 – Ryan Gustin
Sept. 20, 2012 – Jeremy Payne
Sept. 21, 2012 – Rodney Sanders
Sept. 22, 2012 – Joey Jensen
May 25, 2013 – Brandon Davis
July 24, 2013 – Jason Hughes
July 26, 2013 – Terry Phillips
July 26, 2013 – Stormy Scott
July 27, 2013 – Jason Hughes
Aug. 31, 2013 – Jason Hughes
Sept. 20, 2013 – Ryan Gustin (rain-delayed from Sept. 19)
Sept. 20, 2013 – Kelly Shryock
Sept. 21, 2013 – Jason Hughes
May 24, 2014 – Brad Waits
July 24, 2014 – Rodney Sanders
July 26, 2014 – Craig Thatcher (rain-delayed from Sept. 25)
July 26, 2014 – Rodney Sanders
Aug. 30, 2014 – Jason Cummins
Sept. 18, 2014 – Rodney Sanders
Sept. 19, 2014 – Lucas Schott
Sept. 21, 2014 – Rodney Sanders
May 23, 2015 – Brad Waits
July 23, 2015 – Terry Phillips
July 24, 2015 – Jason Hughes
July 25, 2015 – Rodney Sanders/Rodney Sanders (two segments)
Sept. 5, 2015 – Jason Krohn
Sept. 24, 2015 - Jason Hughes
Sept. 25, 2015 - Jason Hughes
Sept. 26, 2015 - Jason Hughes
Sept. 3, 2016 - Rodney Sanders
Sept. 22, 2016 – Cade Dillard
Sept. 23, 2016 – Lucas Schott
Sept. 24, 2016 - Tommy Weder Jr.
May 27, 2017 – Cade Dillard
Sept. 2, 2017 - Ryan Gustin
Sept. 21, 2017 - Cade Dillard
Sept. 22, 2017 - Ryan Gustin
Sept. 23, 2017 - Ryan Gustin
May 26, 2018 - Dustin Sorensen
Sept. 1, 2018 - Johnny Scott
Sept. 21, 2018 - Johnny Scott
Sept. 22, 2018 - Rodney Sanders
May 25, 2019 - Dustin Sorensen
Aug. 30, 2019 - Brandon Davis
Sept. 19, 2019 - Dereck Ramirez
Sept. 20, 2019 - Rodney Sanders
Sept. 21, 2019 - Jacob Bleess
Sept. 5, 2020 - Jake O'Neil
Sept. 25, 2020 - Jake O'Neil
Sept. 26, 2020 - Jake O'Neil
May 29, 2021 - Rodney Sanders
Sept. 4, 2021 - Jake O'Neil
Sept. 24, 2021 - Jake Timm
Sept. 25, 2021 - Jake O'Neil

Driving Directions: I-90 to exit 209, then 11.3 miles south on US 63 (0.7 mile north of SR 16).

Track Configuration: 3/8 mile high-banked clay oval.

Phone: 877-DCS-RACE
DeerCreekSpeedway.com • Facebook • Twitter

SUNDAY, MAY 29
WINNESHIEK RACEWAY – DECORAH, IOWA
14TH ANNUAL NORDIC NATIONALS
With a new name and a new attitude, the Winneshiek Raceway (formerly Upper Iowa Speedway) in Decorah, Iowa, hosts the 14th Annual USMTS Nordic Nationals on Sunday. Zack VanderBeek won his first USMTS main event in 2005 and has three wins here in total—the most of any USMTS driver.

This Sunday's show will also pay $10,000 which makes it possible for one driver to wake up Monday with an extra $37,000 in his or her pocket if they can sweep the weekend.

Adults – $30
Seniors (65+) – $20
Students (12-16) – $20
Kids (11 & Under) – FREE

Pit Passes:
Adults – $40
Youth (6-10) – $30
Kids (Under 6) – FREE

Support Classes:
USRA Stock Cars
USRA B-Mods
USRA Hobby Stocks

Past Winners:
7/23/2005 - Zack VanderBeek
8/30/2006 - Jon Tesch
7/19/2007 - Al Hejna
8/16/2008 - Zack VanderBeek
6/20/2009 - Al Hejna
8/22/2009 – Ryan Gustin
8/27/2011 – Jason Hughes
6/30/2012 – Ryan Gustin
8/18/2012 - Jon Tesch
5/25/2014 - Johnny Scott
5/29/2016 - Zack VanderBeek
5/28/2017 - Jason Hughes
5/27/2018 - Johnny Scott
5/26/2019 - Jake O'Neil
5/30/2021 - Tyler Wolff

Driving Directions: 1.8 miles east of US 52 on SR 9, then 1.0 mile northwest on Montgomery St., then northeast on E. Main St. (at the Winneshiek County Fairgrounds)

Track Configuration: 1/4-mile semi-banked dirt oval.

Phone: (563) 379-1979
WinneshiekRaceway.com • Facebook

Visit usmts.com for schedules, points, photos, souvenirs, videos and more. Follow our social media channels on Facebook, Instagram, Twitter and YouTube. Click here to get USMTS news delivered to your inbox.

USMTS OFFICIAL SPONSORS:
American Racer Racing Tires
,
Beyea Headers
,
Chevrolet Performance
,
Compstar
,
Fast Shafts
,
FK Rod Ends
,
Intercomp
,
K1 RaceGear by Ryan Bowers Motorsports
,
KS Engineering
,
KSE Racing Products
,
Malvern Bank
,
Mesilla Valley Transportation
,
MSD Performance
,
Nitroquest Media
,
PEM Racing Gears & Drivetrain
,
RacinDirt
,
Summit Racing Equipment
,
Super Clean
,
VP Racing Fuels
,
Wrisco Industries
.

USMTS PARTICIPATING SPONSORS: ARMI Contractors, Boubin Tire & Automotive, Brodix Cylinder Heads, DAY Motorsports, Hacienda Mechanical, Mel Hambelton Racing, Midwest Wrap Co., Miller Welders, PBM Performance Products, Rancho Milagro Racing, RHRSwag.com, S&S Fishing & Rental, Salty's BBQ & Catering, YouDirt.com.

USMTS CONTINGENCY SPONSORS: AFCO Racing Products, Allstar Performance, BigDeal Car Care, Bryke Racing, BSB Manufacturing, Champ Pans, Deatherage Opticians, Edelbrock, Hooker Harness, Integra Racing Shocks and Springs, JE Pistons, Keyser Manufacturing, Penske Racing Shocks, Performance Bodies & Parts, QA1, RacerWebsite.com, Real Racing Wheels, Simpson Performance Products, Swift Springs, Sybesma Graphics, Tire Demon, Wehrs Machine & Racing Products, Wilwood Racing.

USMTS RACETRACKS: 81 Speedway, Arrowhead Speedway, Belleville High Banks, Casino Speedway, Cedar Lake Speedway, Chateau Speedway, Dallas County Speedway, Deer Creek Speedway, Fayette County Speedway, Humboldt Speedway, I-70 Speedway, Lakeside Speedway, Lucas Oil Speedway, Mason City Motor Speedway, Mississippi Thunder Speedway, Ogilvie Raceway, Red Dirt Raceway, Rocket Raceway Park, Tri-State Speedway, Winneshiek Raceway.

##

Contact Info:

Jeff Nun

Chief Communications Officer

United States Modified Touring Series, Inc. (USMTS)

1715 W 2nd St, PO Box 905

Webster City, IA 50595