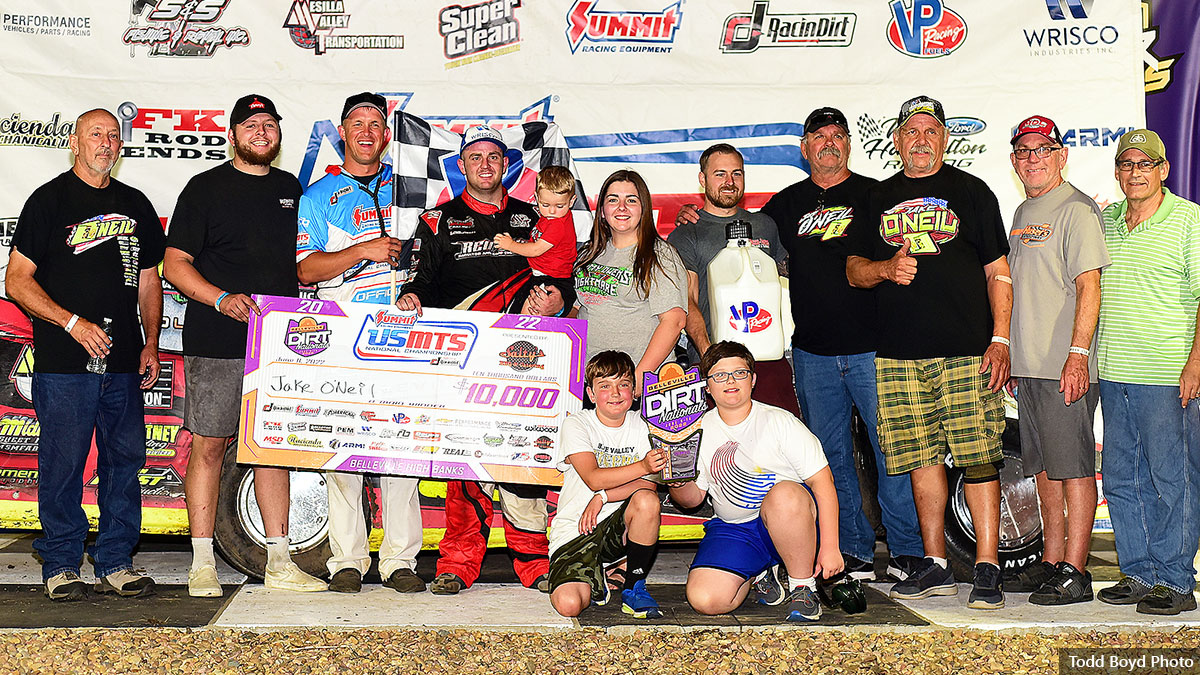 USMTS Belleville Dirt Nationals to O'Neil
BELLEVILLE, Kan. (June 11)

—

The bar was set high on Friday during the opening night of the Belleville Dirt Nationals, but the drivers of the Summit USMTS National Championship presented by RacinDirt stepped right over it and gave the Belleville High Banks fans a USMTS Race of the Year candidate.

Hughes got the jump at the waving of the green flag, but a caution on the second lap after Sanders and Brown made contact slowed the field. Brown tagged the rear while Sanders got his sport back.

Hughes and Mullens battled door to door for the next five laps before the yellow flag flew for a second time on lap seven as O'Neil was making a move around the outside of Mullens.

Two laps later, points leader Dustin Sorensen was credited with causing the race's third caution with nine laps in the books and 41 to go in the 50-lap finale, and then a wild back-and-forth tussle between Hughes and O'Neil came to a halt with a caution on lap 16.

O'Neil tried over and over to find a way around Hughes and then at the race's halfway point, O'Neil snuck by on the inside of turn 2, slid up in front of Hughes in turn 3 and was the leader at the flagstand to complete lap 25.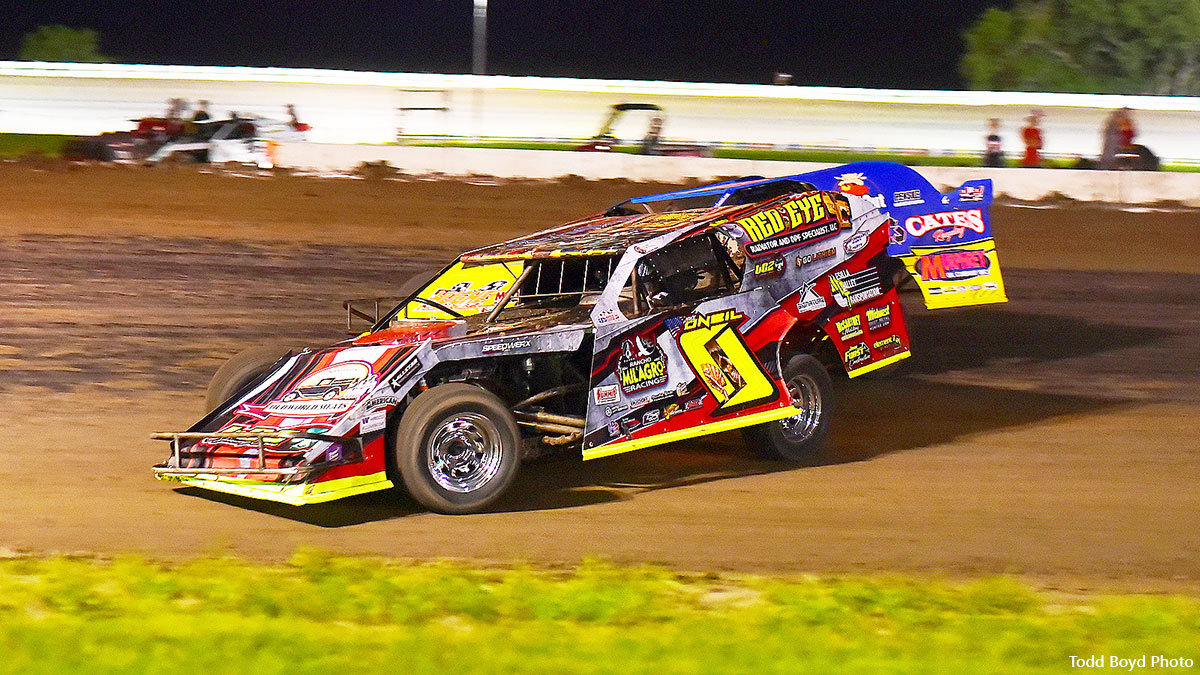 That's when the yellow flag made it's fifth appearance when Dereck Ramirez came to a stop at the bottom of the second corner, dropping him from fourth to last on the ensuing restart.

Running eighth and looking for a way to move forward, Grant Junghans USMTS Rookie of the Year points leader Cayden Carter tagged the infield tractor tire racing with teammate Zack VanderBeek.

VanderBeek continued while Carter called it quits for the night.

That was the last caution of the race, but it certainly wasn't the last bit of drama.

Without cautions to keep clean air on the nose of the leader, O'Neil looked like he was going to run away and hide but Rodney Sanders kept him in his crosshairs.

Sanders got his opportunity on the final lap when O'Neil scooted up the track in turn 1 after a nearly disastrous squabble with a pair of lapped cars.

The four-time USMTS National Champion closed up on the rear bumper of O'Neil but couldn't make the pass, so while O'Neil scored his fifth win of the season Sanders extended his year-long-plus dry spell.

Also winless this year, Mullens recorded another solid to-five finish as he took third in front of Darron Fuqua while Hughes held on to round out the top five finishers.

Rookie racer Dylan Thornton scored his career-best USMTS finish as he came home in sixth-place with another rookie title chaser, Shane DeVolder, taking seventh. Tyler Wolff and Terry Phillips took eighth and ninth, respectively, and Sorensen bounced back to finish tenth.

The win was worth $10,000 to the 30-year-old from Tucson, Ariz. It was the 25th triumph of his USMTS career.

Next event: The final event of the spring swing and second crown jewel happens this Thursday, Friday and Saturday, June 16-18, with the 23rd Annual Masters at the Cedar Lake Speedway in New Richmond, Wis.

If you can't be there in person, witness all the action from anywhere on any device with your RacinDirt Pit Pass where you can watch live and access exclusive content on your desktop and laptop computers, as well as a suite of apps for added convenience including Roku, Amazon Fire, iOS, Apple TVGoogle Play.

Visit usmts.com for schedules, points, photos, souvenirs, videos and more. Follow our social media channels on Facebook, Instagram, Twitter and YouTube. Click here to get USMTS news delivered to your inbox.

================

OFFICIAL RESULTS
United States Modified Touring Series
Summit USMTS National Championship presented by RacinDirt
Belleville Dirt Nationals – Night 2 of 2
Belleville High Banks, Belleville, Kan.
Saturday, June 11, 2022

Showing finishing position, starting position in parentheses, car number, driver and hometown. Heat race lineups are determined via group qualifying. The top 12 in heat race passing points advance to the Summit Racing Equipment "A" Main.

SIMPSON PERFORMANCE PRODUCTS HEAT RACE #1 (8 laps):
1. (4) 44S Shane DeVolder, Pacifica, Calif.
2. (7) 33Z Zack VanderBeek, New Sharon, Iowa
3. (5) 55 Chris Kratzer, Wichita, Kan.
4. (8) 8C Chris Clark, Jackson, Wyo.
5. (6) 007 Zach Nitsch, Delia, Kan.
6. (1) 56 Colton Horner, Houston, Texas
7. (3) 25C Cody Thompson, Sioux City, Iowa
8. (2) 4W Tyler Wolff, Fayetteville, Ark.

FAST SHAFTS HEAT RACE #2 (8 laps):
1. (1) 38T Dylan Thornton, Santa Maria, Calif.
2. (2) 02 Tanner Mullens, Wichita, Kan.
3. (4) 4R Dereck Ramirez, Woodward, Okla.
4. (3) 75 Terry Phillips, Springfield, Mo.
5. (5) 19SB Lance Mari, El Centro, Calif.
6. (7) 2G Brandon Givens, Wichita, Kan.
7. (8) 11B Justin Bussell, Imperial, Neb.
8. (6) 11N Gene Nicholas, Lowell, Ark.

EDELBROCK HEAT RACE #3 (8 laps):
1. (1) 20 Rodney Sanders, Happy, Texas
2. (3) 12 Jason Hughes, Watts, Okla.
3. (4) 19 Dustin Sorensen, Rochester, Minn.
4. (7) 10C Cayden Carter, Oskaloosa, Iowa
5. (5) 15W Kale Westover, Altus, Okla.
6. (8) 16 Austin Siebert, Grandview, Mo.
7. (6) 65X Carlos Ahumada Jr., El Paso, Texas
8. (2) 85 Jayson Good, Watertown, S.D.

MSD PERFORMANCE HEAT RACE #4 (8 laps):
1. (1) 21K Kyle Brown, Madrid, Iowa
2. (3) 0 Jake O'Neil, Tucson, Ariz.
3. (2) 77 Steven Bowers Jr., Topeka, Kan.
4. (5) 87 Darron Fuqua, Mayetta, Kan.
5. (4) 60 Dan Ebert, Lake Shore, Minn.
6. (6) 21 Jacob Bleess, Chatfield, Minn.
7. (7) 3 Trey Duensing, Byron, Neb.
8. (8) 22B Rick Beebe, Shawnee, Kan.

REAL RACING WHEELS "B" MAIN #1 (12 laps, top 5 advance):
1. (1) 77 Steven Bowers Jr., Topeka, Kan.
2. (3) 60 Dan Ebert, Lake Shore, Minn.
3. (2) 75 Terry Phillips, Springfield, Mo.
4. (4) 19SB Lance Mari, El Centro, Calif.
5. (6) 4W Tyler Wolff, Fayetteville, Ark.
6. (9) 65X Carlos Ahumada Jr., El Paso, Texas
7. (8) 25C Cody Thompson, Sioux City, Iowa
8. (7) 56 Colton Horner, Houston, Texas
9. (10) 11N Gene Nicholas, Lowell, Ark.
10. (5) 16 Austin Siebert, Grandview, Mo.

REAL RACING WHEELS "B" MAIN #2 (12 laps, top 5 advance):
1. (2) 87 Darron Fuqua, Mayetta, Kan.
2. (1) 10C Cayden Carter, Oskaloosa, Iowa
3. (4) 15W Kale Westover, Altus, Okla.
4. (6) 21 Jacob Bleess, Chatfield, Minn.
5. (9) 85 Jayson Good, Watertown, S.D.
6. (8) 3 Trey Duensing, Byron, Neb.
7. (3) 007 Zach Nitsch, Delia, Kan.
8. (10) 22B Rick Beebe, Shawnee, Kan.
9. (7) 11B Justin Bussell, Imperial, Neb.
10. (5) 2G Brandon Givens, Wichita, Kan.

SUMMIT RACING EQUIPMENT "A" MAIN (50 laps):
1. (4) 0 Jake O'Neil, Tucson, Ariz.
2. (6) 20 Rodney Sanders, Happy, Texas
3. (2) 02 Tanner Mullens, Wichita, Kan.
4. (14) 87 Darron Fuqua, Mayetta, Kan.
5. (1) 12 Jason Hughes, Watts, Okla.
6. (7) 38T Dylan Thornton, Santa Maria, Calif.
7. (3) 44S Shane DeVolder, Pacifica, Calif.
8. (21) 4W Tyler Wolff, Fayetteville, Ark.
9. (17) 75 Terry Phillips, Springfield, Mo.
10. (10) 19 Dustin Sorensen, Rochester, Minn.
11. (5) 33Z Zack VanderBeek, New Sharon, Iowa
12. (15) 60 Dan Ebert, Lake Shore, Minn.
13. (18) 15W Kale Westover, Altus, Okla.
14. (9) 4R Dereck Ramirez, Woodward, Okla.
15. (8) 21K Kyle Brown, Madrid, Iowa
16. (22) 85 Jayson Good, Watertown, S.D.
17. (24) 2G Brandon Givens, Wichita, Kan.
18. (19) 19SB Lance Mari, El Centro, Calif.
19. (20) 21 Jacob Bleess, Chatfield, Minn.
20. (16) 10C Cayden Carter, Oskaloosa, Iowa
21. (12) 8C Chris Clark, Jackson, Wyo.
22. (23) 65X Carlos Ahumada Jr., El Paso, Texas
23. (13) 77 Steven Bowers Jr., Topeka, Kan.
24. (11) 55 Chris Kratzer, Wichita, Kan.

Lap Leaders: Hughes 1-24, O'Neil 25-50.
Total Laps Led: O'Neil 26, Hughes 24.
Margin of Victory: 0.352 second.
Time of Race: 24 minutes, 26.446 seconds (6 cautions).
Provisional Starters: Ahumada, Givens.
FK Rod Ends Hard Charger: Wolff (started 21st, finished 8th).
Entries: 32.
Next Race: June 16-18, Cedar Lake Speedway, New Richmond, Wis.
Summit USMTS National Championship Points: TBD.
Grant Junghans USMTS Rookie of the Year Points: TBD.
Miller Welders USMTS Manufacturers Championship Points: TBD.
Compstar/JE Pistons USMTS Engine Builder of the Year Points: ​TBD.

Contingency Awards:
American Racer – Sorensen.
Beyea Custom Headers – Fuqua.
BigDeal Car Care – O'Neil, Fuqua.
Bryke Racing – Brown.
BSB Manufacturing – Clark.
Champ Pans – Hughes.
Deatherage Opticians – Ramirez.
Edelbrock – Sanders.
Fast Shafts – Thornton.
FK Rod Ends – Wolff.
Hooker Harness – Ebert.
Integra Racing Shocks & Springs – Bleess.
Keyser Manufacturing – Sorensen.
KS Engineering – VanderBeek.
KSE Racing Products – Phillips.
Mel Hambelton Ford Racing – Sanders.
Midwest Wrap Co. – Ahumada.
MSD Performance – Brown.
Penske Racing Shocks – Westover.
PEM Racing Gears & Drivetrain – Nicholas.
QA1 – Brown.
RacerWebsite.com – O'Neil.
Simpson Performance Products – DeVolder.
Summit Racing Equipment – Ahumada, Bowers, Ebert, Siebert.
Super Clean – O'Neil.
Swift Springs – Ramirez, O'Neil, Givens.
Sybesma Graphics – Hughes.
Tire Demon – Siebert.
VP Racing Fuels – O'Neil.
Wehrs Machine & Racing Products – Bussell.
Wilwood Disc Brakes – Ramirez.

================

USMTS OFFICIAL SPONSORS: American Racer Racing Tires, Beyea Headers, Chevrolet Performance, Compstar, Fast Shafts, FK Rod Ends, Intercomp, K1 RaceGear by Ryan Bowers Motorsports, KS Engineering, KSE Racing Products, Malvern Bank, Mesilla Valley Transportation, MSD Performance, Nitroquest Media, PEM Racing Gears & Drivetrain, RacinDirt, Summit Racing Equipment, Super Clean, VP Racing Fuels, Wrisco Industries.

USMTS PARTICIPATING SPONSORS: ARMI Contractors, Boubin Tire & Automotive, Brodix Cylinder Heads, DAY Motorsports, Hacienda Mechanical, Mel Hambelton Racing, Midwest Wrap Co., Miller Welders, PBM Performance Products, Rancho Milagro Racing, RHRSwag.com, S&S Fishing & Rental, Salty's BBQ & Catering, YouDirt.com.

USMTS CONTINGENCY SPONSORS: AFCO Racing Products, Allstar Performance, BigDeal Car Care, Bryke Racing, BSB Manufacturing, Champ Pans, Deatherage Opticians, Edelbrock, Hooker Harness, Integra Racing Shocks and Springs, JE Pistons, Keyser Manufacturing, Penske Racing Shocks, Performance Bodies & Parts, QA1, RacerWebsite.com, Real Racing Wheels, Simpson Performance Products, Swift Springs, Sybesma Graphics, Tire Demon, Wehrs Machine & Racing Products, Wilwood Racing.

USMTS RACETRACKS: 81 Speedway, Arrowhead Speedway, Belleville High Banks, Casino Speedway, Cedar Lake Speedway, Chateau Speedway, Dallas County Speedway, Deer Creek Speedway, Fayette County Speedway, Humboldt Speedway, I-70 Speedway, Lakeside Speedway, Lucas Oil Speedway, Mason City Motor Speedway, Mississippi Thunder Speedway, Ogilvie Raceway, Red Dirt Raceway, Rocket Raceway Park, Tri-State Speedway, Winneshiek Raceway.

##br>


Contact Info:


Jeff Nun


Chief Communications Officer


United States Modified Touring Series, Inc. (USMTS)


1715 W 2nd St, PO Box 905


Webster City, IA 50595