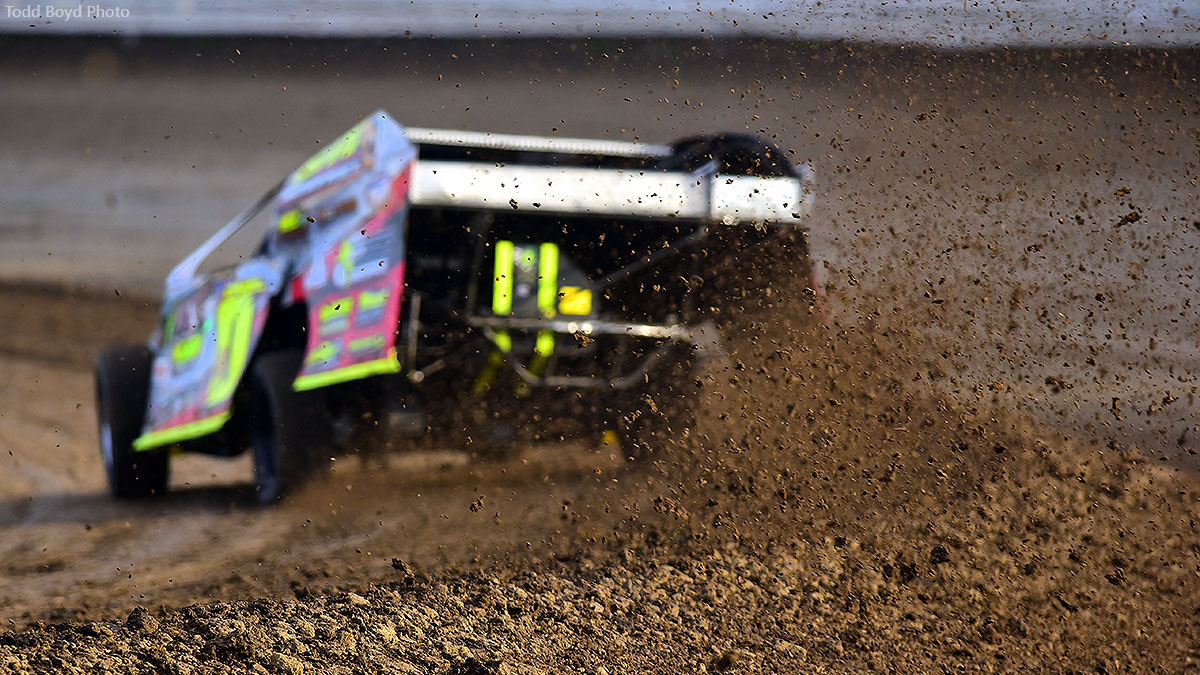 USMTS Returns to Cedar Lake Speedway for 23rd Annual Masters
NEW RICHMOND, Wis. (June 13)

—
The season's second crown jewel awaits as the 23rd Annual Masters features three nights of action-packed racing with complete programs each night for the Summit USMTS National Championship presented by RacinDirt this Thursday, Friday and Saturday, June 16-18.

This year's blockbuster at the Cedar Lake Speedway in New Richmond, Wis., will feature Summit USMTS Modifieds competing on Thursday for $3,000 to win before upping the ante on Friday with a $5,000-to-win show followed by Saturday's $10,000-to-win championship event.

Super Late Models will be competing for the same prize money each night.

USRA Late Models will also run a complete program each night with $600 to win Thursday and Friday before climbing to a $1,000 top prize on Saturday, and all three nights will award Summit USRA Weekly Racing Series national points.

Coming off a series-best fifth win of 2022 this past Saturday at the Belleville High Banks, Jake O'Neil of Tucson, Ariz., is right where he wants to be as he enters this weekend as the defending winner of the Masters.

The USMTS Modifieds made their debut at the Cedar Lake Speedway in 2001 with Tim Donlinger winning the Badger State Championship. Trent Follmer garnered his first and only USMTS victory in the 2002 edition of the event.

The series then became part of the Masters tradition in 2011 with Ryan Gustin winning both ends of a rain-delayed program. He returned in 2012 to top opening night at the Masters but it was Rodney Sanders capturing the finale.

Sanders matched that by winning the opener in 2013 before the finale was pushed back two months by inclement weather. Johnny Scott was the winner when returned for some unfinished business on Aug. 14.

No driver has had more success inside the golden guardrail of the Cedar Lake Speedway than Sanders, registering seven of his 111 USMTS triumphs here. Gustin's not far behind in either category with five of his 103 wins happening at CLS.

In addition to O'Neil, Scott, Follmer and Donlinger, everybody else has just one career USMTS win here including Brad Dierks, Jason Hughes, Austin Arneson, Zack VanderBeek, Stormy Scott, Dustin Sorensen, Terry Phillips and A.J. Diemel.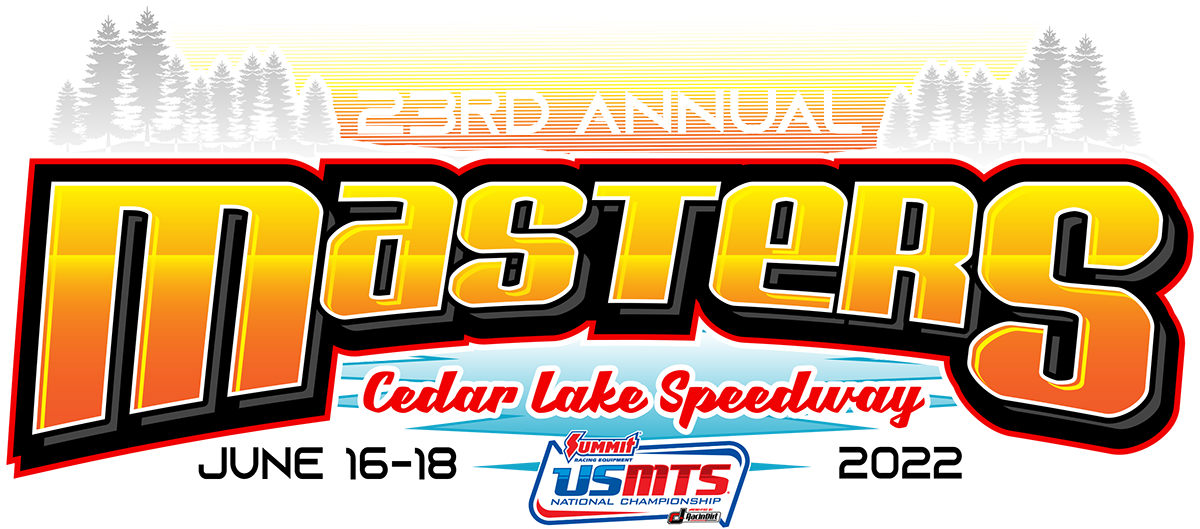 The pit gate opens at 2 p.m. each day and spectator gates open at 5. Drivers will gather for their pit meeting at 6 with hot laps at 6:30 and racing at 7 all three nights.

Thursday's general admission tickets are $30 for everybody 17 and older, students ages 6-16 are $15 and pit passes are $35. On Friday, general admission is $35, students are $17 and pit passes are $40. Saturday's general admission tickets are $40, students are $20 and pit passes are $45.

Kids ages 5 and under are admitted free of charge every day. Reduced two and three-day advanced tickets are available by calling (612) 363-0479 if ordered at least two days before the event. You can also get them online at CedarLakeSpeedway.com.

Camping for the weekend is just $50 for all days and is available at the racetrack starting on Thursday morning.

If you can't be there in person, witness all the action at RacinDirt.TV. Watch live and access exclusive content on your desktop and laptop computers, as well as a suite of apps for added convenience including Roku, Amazon Fire, iOS, Apple TV and Google Play.

THINGS TO DO BEFORE AND AFTER THE RACES



Apple River Tubing:

If you haven't tried what has made the Apple River famous you are missing out! Tubing down the river is an experience in itself but add nearly another thousand people and you have a party. For a small fee we provide transportation to and from River's Edge Apple River Tubing plus an inner tube to enjoy the day under the sun! We will have you back to the track way before hot laps start!

Driver Autograph and Meet & Greet: Before the races come to souvenir alley and purchase an event T-shirt, your favorite driver's shirt or die-cast and get him to sign it as the top drivers will be there to answer your questions, snap a couple pictures and sign your souvenirs.

Party in the Pits: Rub elbows with your favorite drivers, buy them a beer enjoy the music in the Arena Friday night after the races.

Lawn Mower Racing: Check out the lawn mower racing inside the Cedar Lake Arena (east side of the Speedway) on Saturday afternoon. FREE for those with a ticket to Saturday's event.

SCHEDULE OF EVENTS



Thursday, June 16:


Grounds open for camping all day
2:00 Pits Open
5:00 Grandstands Open
6:30 Hot Laps
7:00 Racing
- USRA Late Model Heats
- USMTS Modified Heats
- Late Model Heats
- USMTS Modified B-Mains
- Late Model B-Mains
- USRA Late Model A-Main
- USMTS Modified A-Main
- Late Model A-Main

Friday, June 17:
Grounds open for camping all day
2:00 Pits Open
5:00 Grandstand Gates Open
6:30 Hot Laps
7:00 Racing
- USRA Late Model Heats
- Late Model Heats
- USMTS Modified Heats
- Late Model B-Mains
- USMTS Modified B-Mains
- USRA Late Model A-Main
- Late Model A-Main
- USMTS Modified A-Main

Saturday, June 18:
Grounds open for camping all day
8:30-11:00 Breakfast served
2:00 Pits Open
5:00 Grandstands Open
6:30 Hot Laps
7:00 Racing
- USRA Late Model Heats
- USMTS Modified Heats
- Late Model Heats
- USMTS Modified B-Mains
- Late Model B-Mains
- USRA Late Model A-Main
- USMTS Modified A-Main
- Late Model A-Main

RULES & PROCEDURES



USMTS Modifieds:

USMTS rules apply. All drivers must draw each day prior to drivers meeting. Qualifying will be done through heat race passing points and B-Mains. Heat races will be lined up by group qualifying (time trials) with best four inverted for first four heat race starting spots, with remainder heads up for heat race lineup. Complete show each night. The top 12 or 16 in passing points locked into A-Main each night. The top 8 redraw and an additional 12 advancing from the B-Mains to the A-Main. RACEceivers and AMB transponders are mandatory and available at sign-in.

USMTS rules are available at usmts.com/rules. USRA Late Model rules are available at usraracing.com/rules. Super Late Model rules are available at

cedarlakespeedway.com/masters

.

PAYOUTS – USMTS MODIFIEDS and SUPER LATE MODELS



Thursday:

1. $3000, 2. $1500, 3. $1000, 4. $800, 5. $700, 6. $600, 7. $550, 8. $500, 9. $450, 10. $400, 11. $375, 12. $350, 13. $345, 14. $340, 15. $335, 16. $330, 17. $325, 18. $320, 19. $315, 20. $310, 21. $305, other starters $300, non-qualifiers $90. Entry fee $100 early, $125 at gate.

Friday: 1. $5000, 2. $2500, 3. $1500, 4. $1000, 5. $900, 6. $800, 7. $700, 8. $650, 9. $600, 10. $550, 11. $500, 12. $475, 13. $450, 14. $425, 15. $420, 16. $415, 17. $410, 18. $405, other starters $400, non-qualifiers $100. Entry fee $150 early, $200 at gate.

Saturday: 1. $10,000, 2. $4000, 3. $2500, 4. $1500, 5. $1200, 6. $1000, 7. $900, 8. $800, 9. $700, 10. $600, 11. $575, 12. $550, 13. $540, 14. $530, 15. $520, 16. $515, 17. $510, 18. $505, other starters $500, non-qualifiers $120. Entry fee $200 early, $250 at gate.

PAYOUTS – USRA LATE MODELS



Thursday:

1. $600, 2. $400, 3. $350, 4. $300, 5. $275, 6. $250, 7. $200, 8. $175, 9. $150, 10. $145, 11. $130, 12. $125, 13. $120, 14. $115, 15. $110, 16. $105, 17. $100, 18. $95, 19. $90, other starters $85. Entry fee $15.

Friday: 1. $600, 2. $400, 3. $350, 4. $300, 5. $275, 6. $250, 7. $200, 8. $175, 9. $150, 10. $145, 11. $130, 12. $125, 13. $120, 14. $115, 15. $110, 16. $105, 17. $100, 18. $95, 19. $90, other starters $85. Entry fee $15.

Saturday: 1. $1000, 2. $700, 3. $500, 4. $400, 5. $300, 6. $350, 7. $300, 8. $200, 9. $175, 10. $150, 11. $145, 12. $140, 13. $135, 14. $130, 15. $125, 16. $120, 17. $115, 18. $110, 19. $105, other starters $100. Entry fee $20.

TRACK INFORMATION

Founded in 1957, the Cedar Lake Speedway is a state-of-the-art 3/8-mile high-banked clay oval and is one of the nation's leading short track facilities.

The track is located 1.0 mile east of SR 35 on SR 64, then 4.2 miles north on CR C to CR CC, then left 1.8 miles.

For more information, call (612) 363-0479 or (715) 248-7119 or visit CedarLakeSpeedway.com.

Visit usmts.com for schedules, points, photos, souvenirs, videos and more. Follow our social media channels on Facebook, Instagram, Twitter and YouTube. Click here to get USMTS news delivered to your inbox.

===================

USMTS OFFICIAL SPONSORS: American Racer Racing Tires, Beyea Headers, Chevrolet Performance, Compstar, Fast Shafts, FK Rod Ends, Intercomp, K1 RaceGear by Ryan Bowers Motorsports, KS Engineering, KSE Racing Products, Malvern Bank, Mesilla Valley Transportation, MSD Performance, Nitroquest Media, PEM Racing Gears & Drivetrain, RacinDirt, Summit Racing Equipment, Super Clean, VP Racing Fuels, Wrisco Industries.

USMTS PARTICIPATING SPONSORS: ARMI Contractors, Boubin Tire & Automotive, Brodix Cylinder Heads, DAY Motorsports, Hacienda Mechanical, Mel Hambelton Racing, Midwest Wrap Co., Miller Welders, PBM Performance Products, Rancho Milagro Racing, RHRSwag.com, S&S Fishing & Rental, Salty's BBQ & Catering, YouDirt.com.

USMTS CONTINGENCY SPONSORS: AFCO Racing Products, Allstar Performance, BigDeal Car Care, Bryke Racing, BSB Manufacturing, Champ Pans, Deatherage Opticians, Edelbrock, Hooker Harness, Integra Racing Shocks and Springs, JE Pistons, Keyser Manufacturing, Penske Racing Shocks, Performance Bodies & Parts, QA1, RacerWebsite.com, Real Racing Wheels, Simpson Performance Products, Swift Springs, Sybesma Graphics, Tire Demon, Wehrs Machine & Racing Products, Wilwood Racing.

USMTS RACETRACKS: 81 Speedway, Arrowhead Speedway, Belleville High Banks, Casino Speedway, Cedar Lake Speedway, Chateau Speedway, Dallas County Speedway, Deer Creek Speedway, Fayette County Speedway, Humboldt Speedway, I-70 Speedway, Lakeside Speedway, Lucas Oil Speedway, Mason City Motor Speedway, Mississippi Thunder Speedway, Ogilvie Raceway, Red Dirt Raceway, Rocket Raceway Park, Tri-State Speedway, Winneshiek Raceway.

##



Contact Info:


Jeff Nun


Chief Communications Officer


United States Modified Touring Series, Inc. (USMTS)


1715 W 2nd St, PO Box 905


Webster City, IA 50595