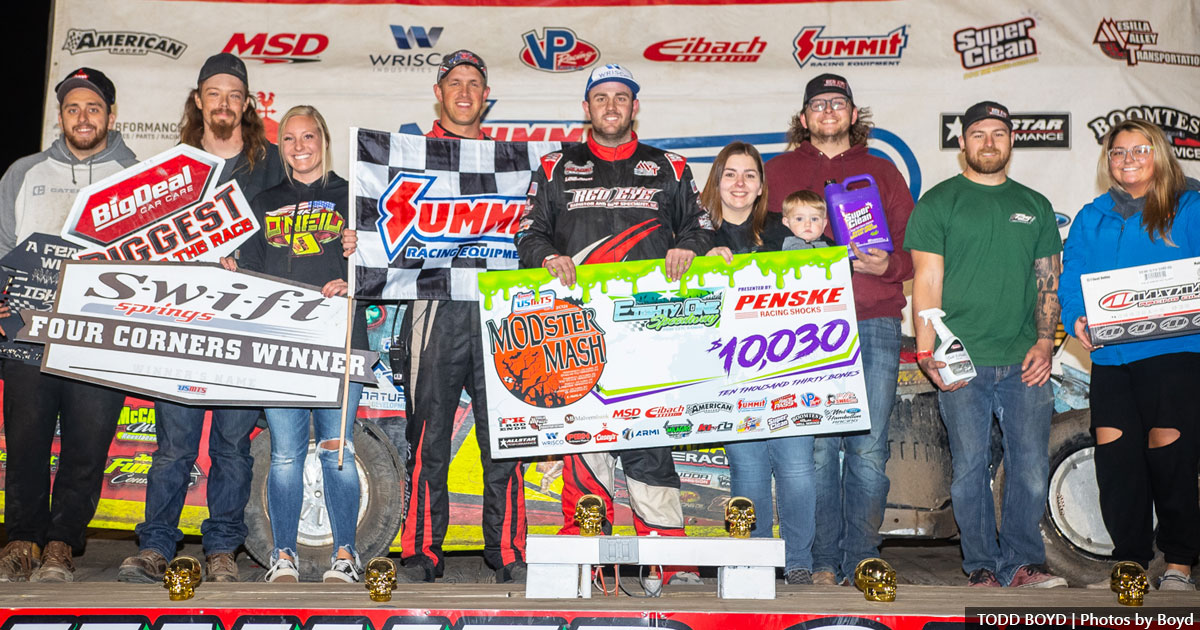 O'Neil Nabs Tenth USMTS Win in Season Finale at 81 Speedway
PARK CITY, Kan. (Oct. 30)

—

The Summit USMTS National Championship fueled by Casey's capped a memorable 2021 season with a thriller at the 81 Speedway on Saturday night that saw Jake O'Neil spook the field for his tenth win of the campaign while Dereck Ramirez secured his first USMTS national title.

As he has done in several of his victories, O'Neil had to fight his way past the best dirt modified racers on the planet after he found himself starting deep in the main event field from the inside of the seventh row.

At the front of the 26-car starting grid, two-time USRA Modified national champ Lucas Schott got the jump on polesitter Tyler Davis and led his first laps of the season. Davis kept Schott in his sights until lap 12 when his hood flew up and into his vision, causing the race's third caution.

Schott continued to lead the early stages with four-time USMTS national champ Jason Hughes, multi-time World of Outlaws Late Model Series champion Brandon Sheppard, Ramirez, Terry Phillips, Tanner Mullens and O'Neil gave chase.

At the halfway point, O'Neil had already passed nine cars to claim the fourth spot, but Schott continued his strong run at the front of the pack until the yellow flag waved for the fifth time when Rodney Sanders smacked the front-stretch wall just below the flagstand.

Back under green, Schott slipped high in the first corner and that allowed Phillips and Hughes to race bay with Phillips having the advantage as they completed lap 29.

The field began to settle back in with Phillips fending off a strong challenge from Hughes before O'Neil raced into second place with eight laps remaining. Five laps later, O'Neil was underneath Phillips and when the white flag waved it was O'Neil in front.

One lap later, O'Neil—who cashed a $21,000 check one week earlier at the Rancho Milagro USRA Fall Nationals at the Vado Speedway Park—earned a check for $10,030 for his effort in the 2nd Annual USMTS Modified Spook-tacular presented by Kansasland Tire & Service.

"We don't give up ever," O'Neil said after explaining that we wasn't too confident in his chances coming into the 40-lapper. "You never know what's gonna happen. I thought we had a good car but Jason, Terry, Lucas… everybody was fast up there. I didn't think we had a chance.

"That last restart there I just went balls out, really."

With three of the four events this weekend canceled due to rain, O'Neil knew coming in that one mountain was too high to climb as Ramirez had the 2021 USMTS national championship wrapped up when he signed in for Saturday's race.

Ramirez wound up sixth in the final rundown while Phillips, Hughes, Mullens and Sheppard willed the remaining spots in the top five. Schott fell to seventh, Dustin Sorensen was eighth Tyler Wolff rebounded from a flat tire early in the race and Davis fought his way back to tenth after his mid-race hood issues.

In the final standings, Ramirez wound up 42 points in front of O'Neil (2666 to 2624) while last year's Grant Junghans Rookie of the Year Award winner Mullens came home third with 2539 markers. Sanders finished fourth with 2511 points, followed by Schott (2362), Sorensen (2337), Wolff (2312), Hughes (2182), Dan Ebert (2136) and Phillips (2059).
The Summit USMTS National Championship fueled by Casey's featured 31 nights of racing during the 2021 campaign with the winners of those events taking home more than $250,000. Watch for announcements coming soon regarding the USMTS awards banquet and 2022 season opener.

Visit usmts.com for schedules, points, photos, souvenirs, videos and more. Follow our social media channels on Facebook, Instagram, Twitter and YouTube. Click here to get USMTS news delivered to your inbox.

= = = = = = = = = = = = = = =

OFFICIAL RESULTS
United States Modified Touring Series
Summit USMTS National Championship fueled by Casey's
2nd Annual USMTS Modified Spook-tacular presented by Kansasland Tire & Service
81 Speedway, Park City, Kan.
Saturday, Oct. 30, 2021

Showing finishing position, starting position in parentheses, car number, driver, hometown, laps completed and money won. The top 12 in heat race passing points advance to the Casey's "A" Main.

SIMPSON PERFORMANCE PRODUCTS HEAT RACE #1 (8 laps):
1. (2) B5 Brandon Sheppard, New Berlin, Ill.
2. (1) 4A Josh Lanterman, Derby, Kan.
3. (3) 19R Chris Kratzer (R), Wichita, Kan.
4. (8) 44S Shane DeVolder (R), Pacifica, Calif.
5. (4) 87F Darron Fuqua, Mayetta, Kan.
6. (7) 4 Dan Powers, Wichita, Kan.
7. (5) 33Z Zack VanderBeek, New Sharon, Iowa
8. (6) 99T T.J. Tolan (R), Valley Center, Kan.
9. (10) 96 Logan Johnson (R), Haysville, Kan.
10. (9) 60 Cody Kretchmar (R), Wichita, Kan.

FAST SHAFTS HEAT RACE #2 (8 laps):
1. (2) 75 Terry Phillips, Springfield, Mo.
2. (1) 65 Tyler Davis, Haysville, Kan.
3. (4) 20 Rodney Sanders, Happy, Texas
4. (6) 4W Tyler Wolff, Fayetteville, Ark.
5. (3) 91 Joe Duvall, Claremore, Okla.
6. (7) 60E Dan Ebert, Lake Shore, Minn.
7. (8) 1M Curt Myers, Cameron, Wis.
8. (5) 21C Cody Schniepp, Wichita, Kan.
9. (9) 32R Daniel Richey (R), Wichita, Kan.
10. (10) 16G Shawn Govern (R), Valley Center, Kan.

EDELBROCK HEAT RACE #3 (8 laps):
1. (2) 02 Tanner Mullens, Wichita, Kan.
2. (1) 4R Dereck Ramirez, Woodward, Okla.
3. (4) 19 Dustin Sorensen, Rochester, Minn.
4. (5) 21B Bryce Schniepp, Wichita, Kan.
5. (6) 2G Brandon Givens (R), Wichita, Kan.
6. (3) 151 Lucas Gibbs (R), Udall, Kan.
7. (7) 85 Jayson Good (R), Watertown, S.D.
8. (9) 96JR Jon Herring Jr., Woodward, Okla.
9. (8) 22N Kevin Newell (R), Wichita, Kan.

MSD PERFORMANCE HEAT RACE #4 (8 laps):
1. (2) 69 Lucas Schott, Chatfield, Minn.
2. (4) 12 Jason Hughes, Watts, Okla.
3. (3) 0 Jake O'Neil, Tucson, Ariz.
4. (6) 65X Carlos Ahumada Jr., El Paso, Texas
5. (7) 11JR Randal Schiffelbein Jr., Berryton, Kan.
6. (1) 7 Al Hejna, Clear Lake, Iowa
7. (9) 8C Chris Clark, Jackson, Wyo.
8. (5) 87 Kenny Sweet, Wichita, Kan.
9. (8) 99 Nathan Hagar, Adair, Okla.

REAL RACING WHEELS "B" MAIN #1 (12 laps, top 5 advance):
1. (1) 0 Jake O'Neil, Tucson, Ariz.
2. (2) 65X Carlos Ahumada Jr., El Paso, Texas
3. (3) 11JR Randal Schiffelbein Jr., Berryton, Kan.
4. (4) 91 Joe Duvall, Claremore, Okla.
5. (6) 33Z Zack VanderBeek, New Sharon, Iowa
6. (7) 96JR Jon Herring Jr., Woodward, Okla., LG2/Herring, $125.
7. (5) 4 Dan Powers, Wichita, Kan., BillsBuilt/Mullins, $125.
8. (8) 21C Cody Schniepp, Wichita, Kan., Mullens/Mullens, $125.
9. (10) 22N Kevin Newell (R), Wichita, Kan., Custom/Newell, $125.
10. (9) 96 Logan Johnson (R), Haysville, Kan., $125.
DNS – 151 Lucas Gibbs (R), Udall, Kan., MBCustoms/Bailey, $125.
DNS – 8C Chris Clark, Jackson, Wyo.
DNS – 60 Cody Kretchmar (R), Wichita, Kan., BillsBuilt/KBS, $125.

REAL RACING WHEELS "B" MAIN #2 (12 laps, top 5 advance):
1. (1) 4W Tyler Wolff, Fayetteville, Ark.
2. (5) 60E Dan Ebert, Lake Shore, Minn.
3. (3) 87F Darron Fuqua, Mayetta, Kan.
4. (2) 21B Bryce Schniepp, Wichita, Kan.
5. (4) 2G Brandon Givens (R), Wichita, Kan.
6. (8) 85 Jayson Good (R), Watertown, S.D.
7. (10) 87 Kenny Sweet, Wichita, Kan., BillsBuilt/KBS, $125.
8. (9) 99T T.J. Tolan (R), Valley Center, Kan.
9. (6) 7 Al Hejna, Clear Lake, Iowa, Rage/Chevrolet, $125.
10. (11) 32R Daniel Richey (R), Wichita, Kan., Mullens/Mullens, $125.
11. (12) 99 Nathan Hagar, Adair, Okla., Hughes/Chevrolet, $125.
12. (7) 1M Curt Myers, Cameron, Wis.
13. (13) 16G Shawn Govern (R), Valley Center, Kan., GRT/, $125.

CASEY'S "A" MAIN (40 laps):
1. (13) 0 Jake O'Neil, Tucson, Ariz., LG2/Cornett, 40, $10,130.
2. (3) 75 Terry Phillips, Springfield, Mo., GRT/Durham, 40, $5000.
3. (7) 12 Jason Hughes, Watts, Okla., Hughes/Mullins, 40, $3000.
4. (8) 02 Tanner Mullens, Wichita, Kan., Mullens/Mullens, 40, $2000.
5. (6) B5 Brandon Sheppard, New Berlin, Ill., Hughes/Cornett, 40, $1700.
6. (5) 4R Dereck Ramirez, Woodward, Okla., Hughes/Cornett, 40, $1500.
7. (2) 69 Lucas Schott, Chatfield, Minn., MBCustoms/Stoen, 40, $1200.
8. (10) 19 Dustin Sorensen, Rochester, Minn., MBCustoms/Action, 40, $1000.
9. (14) 4W Tyler Wolff, Fayetteville, Ark., MBCustoms/ECE, 40, $900.
10. (1) 65 Tyler Davis, Haysville, Kan., Hughes/Mullins, 40, $850.
11. (11) 44S Shane DeVolder (R), Pacifica, Calif., VanderBuilt/Stoen, 40, $800.
12. (22) 2G Brandon Givens (R), Wichita, Kan., Hughes/Mullins, 40, $775.
13. (4) 4A Josh Lanterman, Derby, Kan., BillsBuilt/Hillsboro, 40, $750.
14. (9) 20 Rodney Sanders, Happy, Texas, MBCustoms/Hatfield, 40, $740.
15. (26) 99T T.J. Tolan (R), Valley Center, Kan., BillsBuilt/ASI, 40, $160.
16. (15) 65X Carlos Ahumada Jr., El Paso, Texas, Hughes/BMS, 38, $730.
17. (25) 8C Chris Clark, Jackson, Wyo., Hughes/Mullins, 37, $250.
18. (16) 60E Dan Ebert, Lake Shore, Minn., Lethal/Ebert, 28, $720.
19. (17) 11JR Randal Schiffelbein Jr., Berryton, Kan., MBCustoms/Driskell, 28, $715.
20. (20) 21B Bryce Schniepp, Wichita, Kan., Mullens/Mullens, 25, $710.
21. (19) 91 Joe Duvall, Claremore, Okla., MBCustoms/Stoen, 19, $705.
22. (23) 85 Jayson Good (R), Watertown, S.D., MBCustoms/Tim's, 16, $700.
23. (18) 87F Darron Fuqua, Mayetta, Kan., MBCustoms/Driskell, 12, $700.
24. (12) 19R Chris Kratzer (R), Wichita, Kan., Hughes/Mullens, 12, $700.
25. (24) 1M Curt Myers, Cameron, Wis., Rage/Sput's, 11, $700.
26. (21) 33Z Zack VanderBeek, New Sharon, Iowa, VanderBuilt/Stoen, 7, $700.

(R) = Grant Junghans USMTS Rookie of the Year contender


Lap Leaders:
Schott 1-28, Phillips 29-38, O'Neil 39-40.
Total Laps Led: Schott 28, Phillips 10, O'Neil 2.
Margin of Victory: 0.264 second.
Time of Race: 33 minutes, 37.859 seconds ( cautions).
Provisional Starters: Good, Myers.
Emergency Provisional: Clark.
Track Provisional: Tolan.
FK Rod Ends Hard Charger: O'Neil (started 13th, finished 1st).
Entries: 38.
Next Race: Season complete.
Summit USMTS National Championship fueled by Casey's Points (final): Ramirez 2666, O'Neil 2624, Mullens 2539, Sanders 2511, Schott 2362, Sorensen 2337, Wolff 2312, Hughes 2182, Ebert 2136, Phillips 2059.
Grant Junghans USMTS Rookie of the Year Points (final): Brooks Strength 1838, Good 1456, Givens 1399, Jesse Glenz 877, Lucas Lee 713.
Miller Welders USMTS Manufacturers Championship Points (final): MBCustoms 265, Hughes 245, LG2 231, Mullens 204, Lethal 171.
Compstar USMTS Engine Builder of the Year Points (final): Cornett 266, Hatfield 187, Stoen 185, Mullens 181, Action 140.

Contingency Awards:
American Racer – Lanterman.
Beyea Custom Headers – Mullens.
BigDeal Car Care – O'Neil.
Bryke Racing – Tolan.
BSB Manufacturing – Duvall.
Champ Pans – Sheppard.
Deatherage Opticians – Sanders.
Edelbrock – Sheppard.
Eibach – O'Neil.
Fast Shafts – Sheppard.
FK Rod Ends – O'Neil.
Hooker Harness – Givens.
Integra Racing Shocks & Springs – Schiffelbein.
Jerovetz Motorsports Racing Parts – Ebert.
K1 RaceGear by Ryan Bowers Motorsports – Herring.
Keyser Manufacturing – Davis.
KS Engineering – DeVolder.
KSE Racing Products – Wolff.
Maxima Racing Oils – O'Neil.
Mesilla Valley Transportation – Clark.
Penske Racing Shocks – Lanterman.
PEM Racing Gears & Drivetrain – Ahumada.
QA1 – Sorensen.
Race Ranch – Bobby Kotok (O'Neil).
RacerWebsite.com – Herring.
Simpson Performance Products – Sheppard.
Summit Racing Equipment – Kretchmar, Lanterman, Richey, Schiffelbein.
Super Clean – O'Neil.
Swift Springs – O'Neil, Lanterman.
Sybesma Graphics – Schott.
Tire Demon – Clark.
VP Racing Fuels – O'Neil.
Wehrs Machine & Racing Products – Powers.
Wilwood Disc Brakes – Schott.

= = = = = = = = = = = = = = =

USMTS OFFICIAL SPONSORS: American Racer Racing Tires, Beyea Headers, Casey's, Chevrolet Performance, Compstar, Dirt Draft, Eibach, Fast Shafts, FK Rod Ends, Intercomp, Jerovetz Motorsports Racing Parts, K1 RaceGear by Ryan Bowers Motorsports, KS Engineering, KSE Racing Products, Malvern Bank, Mesilla Valley Transportation, MSD Performance, MTN DEW RISE ENERGY, MyRacePass, Nitroquest Media, PEM Racing Gears & Drivetrain, RacinDirt.com, Summit Racing Equipment, Super Clean, The Chunky Poodle, VP Racing Fuels, Wrisco Industries.

USMTS PARTICIPATING SPONSORS: ARMI Contractors, Boomtest Well Service, Boubin Tire & Automotive, Brodix Cylinder Heads, Duvall Electric, Hacienda Mechanical, Mel Hambelton Ford Racing, Midwest Wrap Co., Miller Welders, PBM Performance Products, Race Ranch, Rancho Milagro Racing, RHRSwag.com, S&S Fishing & Rental, YouDirt.com.

USMTS CONTINGENCY SPONSORS: AFCO Racing Products, Allstar Performance, BigDeal Car Care, Brown & Miller Racing Solutions, Bryke Racing, BSB Manufacturing, Champ Pans, Deatherage Opticians, Edelbrock, Forty9 Designs, Hooker Harness, Integra Racing Shocks and Springs, Keyser Manufacturing, Maxima Racing Oils, Penske Racing Shocks, QA1, RacerWebsite.com, Real Racing Wheels, Simpson Performance Products, Swift Springs, Sybesma Graphics, Tire Demon, Wehrs Machine & Racing Products, Wilwood Racing.

USMTS RACETRACKS: 81 Speedway, Ark-La-Tex Speedway, Casino Speedway, Cedar Lake Speedway, Dallas County Speedway, Deer Creek Speedway, Fayette County Speedway, Hamilton County Speedway, Humboldt Speedway, Lakeside Speedway, Lucas Oil Speedway, Mason City Motor Speedway, Mississippi Thunder Speedway, Ogilvie Raceway, Park Jefferson Speedway, Rapid Speedway, Revolution Park, RPM Speedway, Tri-State Speedway, Upper Iowa Speedway.

##

Contact Info:

Jeff Nun

Chief Communications Officer

United States Modified Touring Series, Inc. (USMTS)

1715 W 2nd St, PO Box 905

Webster City, IA 50595